Ten 'Clásicos' to remember, which one do you prefer?
This Saturday Barcelona and Real Madrid will meet again in the game of the year. This is followed by other exciting duels between 'blancos' and 'culés' that are worth recalling.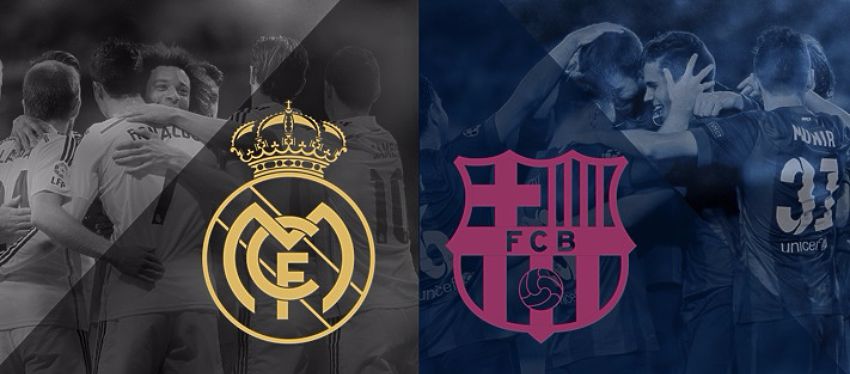 Although they are going through two different spells, Barcelona and Real Madrid will be in the spotlight again in round 14 of LaLiga. 'El Clásico' is back and it is with the 'blancos' leading the table six points away from Barcelona which is in second place.
This is the match which is the most repeated in the Spanish football history (231 official matches). Next Saturday will see a new chapter in which Barça will try to return to victory over Madrid, who haven't lost a game of LaLiga since 27 February this year against Atlético de Madrid (0-1).
From here, at Xocu, we used this amazing duel to take a look at the ten most fascinating 'Clásicos' in recent years. Which one do you choose?
Real Madrid 0-3 Barcelona (19 November 2005): With the arrival of Ronaldinho at Barça, the 'culés' could smile again after many years of drought without any trophy. One of the finest exhibitions ever in living memory of 'Gaucho' took place in the field of his highest rival. The score was 0-3, a goal from Eto'o and a double from Ronaldinho, who received a standing ovation from 'Bernabéu'.
Real Madrid 3-1 Barcelona (25 October 2014): The first performance of MSN in Santiago Bernabéu wasn't the best for the 'culés'. Neymar scored the first goal very early in the game. However, Cristiano Ronaldo, Pepe and Benzemá overturned the result.
Barcelona 3-3 Real Madrid (10 March 2007): This game will be remembered for the first hat-trick from Messi with the Barcelona kit. The clash was an exchange of goals that the 'azulgrana' number 10 ended in the injury time with the final result 3-3. Van Nistelrooy (2) and Ramos were the goal scorers of Real Madrid.
Real Madrid 3-4 Barcelona (23 March 2014): Another clash was the one between Madrid and Barça three seasons ago, a duel in which Messi scored another hat-trick again and it was marked by the performance of Undiano Mallenco, who blew two penalties and expelled Sergio Ramos.
Barcelona 1-2 Real Madrid (16 April 2014): The Copa del Rey final of 2014 will be forever remembered by 'madridistas' fans for the amazing sprint of Gareth Bale to whisk Marc Bartra onto the floor and bounce to take the title from azulgranas in the last few minutes.
Barcelona 5-0 Real Madrid (29 November 2010): FC Barcelona beat Real Madrid in round 13 of LaLiga. Real Madrid was overtook from the very first minutes. Xavi, Pedro, Villa (2) and Jeffren were the goal scorers of that night that 'culés' will never forget.
Real Madrid 4-1 Barcelona (7 May 2008): With LaLiga title in its pocket, Madrid showed off with a wide margin that, even it had no significance in the championship, it was a evening that fans will remember forever.
Real Madrid 2-6 Barcelona (2 May 2009): One year after this landslide in Bernabéu, Barça made a 180 degree shift and left Bernabéu grinning from ear to ear. A 'set' that was the second highest wide margin of Barça in enemy field.
Barcelona 0-1 Real Madrid (20 March 2011): The Copa del Rey finals between both of the teams are a Madrid's thing. At that time, it was Cristiano Ronaldo the one that leave Mestalla in grand style after jumping over the 'culé' back line and giving Real Madrid the number 18th title.
Real Madrid 0-4 Barcelona (21 November 2015): Just over a year ago, and with Messi on the bench, Barça won once again fair and square in Bernabéu. With Benítez on the bench of Real Madrid, BBC couldn't even do anything against a Barça that didn't play at its best.
---